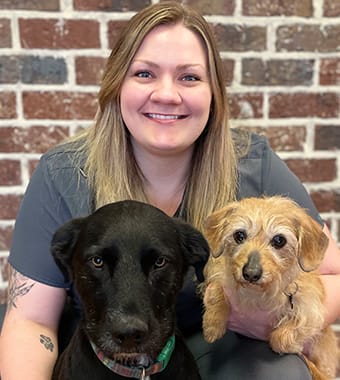 Dr. Easom
Dr. Miranda Easom grew up in the small town of Ozark, Arkansas. She graduated from Oklahoma State University College of Veterinary Medicine. After beginning her career in equine practice starting with an internship just outside of Chicago, Illinois, and then moved to an equine practice in Mississippi.
Dr. Easom converted a small animal medicine and joined Petvax in 2020. Dr. Easom likes discussing preventative medicine and proper nutrition with clients to keep their pets healthy. 
She also enjoys the occasional internal medicine case. In her free time, Dr. Easom loves spending time with her friends and family, hanging out with her many dogs and boyfriend, DIY projects, gardening, and traveling. 
New Patients Welcome
PetVax Complete Care Centers is accepting new patients! Our experienced vets are passionate about the health of Memphis companion animals. Get in touch today to book your pet's first appointment.