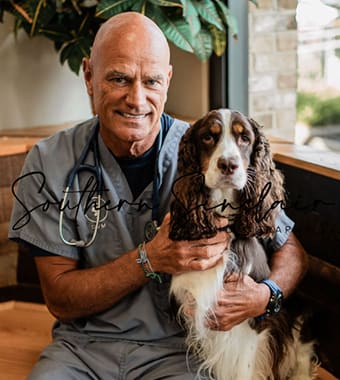 About Dr. Davis
Dr. Scotchie Davis is a Laurel, Mississippi native who is licensed to practice Veterinary Medicine in both Mississippi and Tennessee. He graduated from Mississippi State University College of Veterinary Medicine in 1988. Dr. Davis is also Health Certificate accredited in both Mississippi and Tennessee.

Career Timeline:
From 1988-1994, Dr. Davis worked as an Associate Veterinarian at Stateline Animal Hospital.
In 1994, he decided to open his own small animal practice, Horn Lake Animal Hospital, which also specialized in Emergency Care.
In 2004, he opened Walls Animal Hospital, which also had a boarding facility. After selling both practices, he worked as a relief Veterinarian at Day and Night Animal Hospital, and PetVax Animal Hospital.
From 2018-2020, he co-owned Center Hill Animal Hospital with a Veterinarian partner. He has since returned to PetVax and is happy to call us home.

Dr. Davis has always had special interests in preventative medicine and surgery for the last 33 years. He is highly skilled and competent in routine surgeries along with a variety of orthopedic surgeries.

Call PetVax Midtown to make an appointment with him today!
New Patients Welcome
PetVax Complete Care Centers is accepting new patients! Our experienced vets are passionate about the health of Memphis companion animals. Get in touch today to book your pet's first appointment.